Alien Beam
Production information
Manufacturer
Type

Point defence, beam weapon

Technical specifications
Size

Unknown

Damage Per Hit

Scout: 20
Hunter: 50
Automatic turret: 10

Maximum Ammunition

Unlimited

Fire Mode

Constant

Rate of Fire

Scout and automatic turret: 10 hits per second
Hunter: 10 hits per 3 seconds

Accuracy

Extreme

Range

Long

Ammunition specifications
Ammunition Type

High temperature beam

Muzzle Velocity

Instant

Usage
Counterweapon(s)

MOAR (fellow beam weapon)

Affiliation

Ceph

[Source]
Alien Beam is the name given to the beam weapon used by certain Ceph Scouts in Crysis Warhead. The beam deals constant damage to anything caught in it.
Description
Edit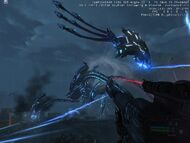 The alien beam is a jagged, blue colored beam (though the Red Hunters version is pink in color). The alien beam has the damage of the MOAC and the accuracy of a beam weapon. The beam however, unlike the other Ceph weapons that are based on coldness, is based on very high temperatures, as everything it hits starts to burn and vaporize. There are also small automatic turrets placed around the Red Hunter's horns and tail as point defences. These beams do lesser damage but they can fire together at a certain angle, making them potentially dangerous.
Avoiding the beam is similar to dodge the MOAR beam, since it's a beam weapon. The beam deals constant damage to its target so it's advised to not standing still for too long. Try to find cover or eliminate the shooter using run and jump tactics before it can do too much damage. The Red Hunter's main beam is even more powerful and should be avoided as quickly as possible. Fortunately, the Hunter will charge its beam before firing. This gives the player some time to run away, around or find a cover.
Red Hunter's beam comes from its back, not its front.
Sometimes the Red Hunter can shoot backwards. This will happen if the player runs behind it.
The weapon sound for the alien beam sounds like running water.
Community content is available under
CC-BY-SA
unless otherwise noted.