Note: Some information on this page is borrowed from the CryENGINE 3 website and Wikipedia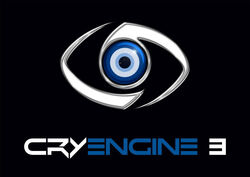 CryENGINE 3 is Crytek's fourth commercial game engine to be released. It is a heavily tweaked version of CryENGINE 2 that allows for console support.
For the developement of Crysis 2, Crytek realized that their CryENGINE 2 required simply too much processing power for the Xbox 360 and PlayStation 3 to handle. Thus, they set out at a very early stage of development to optimize the CryENGINE 2 for console use while still maintaining the signature physics engine and shine that the original retained. While not as graphically stunning as CryENGINE 2, the CryENGINE 3 sported support for consoles, and despite its inability to match up with the old engine in terms of looks, still topped the charts as the best looking game engine to date on seventh generation consoles.
Crytek realized the potential complications of releasing the original Crysis for Xbox 360 and PlayStation 3 shortly after deciding to do so; as was the case with Crysis 2, the consoles simply could not handle the CryENGINE 2's huge demand for processing power. In response, Crytek switched the engine that Crysis used from CryENGINE 2 to CryENGINE 3 for its console release.
Technical Data
Edit
The engine features many advanced graphical, physical and animation technologies as well as many gameplay enhancements. These enhancements will make CryEngine 2 obsolete, and is said to lead the way towards a new kind of "realism" in gaming stated Crytek. CryEngine 3 is also set to support DirectX 11.
Simultaneous WYSIWYG on all platforms in Sandbox editor
Hot-update for all platforms in Sandbox editor
Flow graph
Integrated vegetation & terrain cover generation system
Real time soft particle system & integrated FX editor
Road & river tools
Vehicle creator
Multi-core support
Real time dynamic global illumination
Deferred lighting
Natural lighting & dynamic soft shadows
Volumetric, layer & view distance fogging
Normal maps & parallax occlusion maps
Screen Space Ambient Occlusion
"Uber Shader" technology
Eye adaptation & high dynamic range(HDR) lighting
Motion blur & depth of field
Character animation system
Character individualization system
Parametric skeletal animation
Procedural motion warping & IK solutions
Facial animation editor
Subsurface scattering
AI editing system
Dynamic pathfinding
Automated nagivation mesh generation
Natural world effects
CGI quality time of day system
High quality 3D water
Dynamic volumetric light beams & light shaft effects
Streaming environments
Integrated multi-threaded physics engine
Interactive & destructible environments
Rope physics
Performance analysis tools
Sandbox development layers
PolyBump
Offline rendering
Resource compiler
Data-driven sound system
In-game mixing & profiling
Dynamic sounds & interactive music
Environmental audio
High Speed Texture Rendering
Key frame-accurate sounds in animations
Sound moods
Community content is available under
CC-BY-SA
unless otherwise noted.