Hello, and welcome to the Crysis Wiki! This is the Newcomer Corner, a page for new users to get basic information about this wiki. If you're a new user, feel free to read through!
What is Crysis Wiki?
Crysis Wiki is an online encyclopedia dedicated to creating the best, most in-depth collection of information available for the Crysis series. It is all fan-maintained, and anyone may edit any article.
How can you help?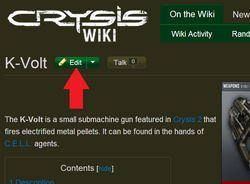 There are a number of ways you can help here, but the easiest is to edit articles to fix small errors. Even if all you do is add or remove a comma from a section, you've just saved someone else all that time and effort, and have contributed to the wiki greatly! Our system of badges even lets you track your progress as an editor, if you'd like!
For more information on editing, see Help:Editing
Even if you choose not to edit, your viewership here really helps us out. We strive to be the best Crysis encyclopedia, and that means becoming your go-to guide for anything Crysis!
Have any questions?
If you ever have any questions about the wiki, how it works, what to do, or really anything at all, you can always find help somewhere.
Check the chat for someone to answer your question
Find an administrator and leave a message on their Talk Page
Make a blog post
If nobody is on this wiki to answer your questions, you can enter this chat and someone will try to help
Last but not least
You are free to do almost everything here, but there are some rules. It is recommended you read through them. Don't worry, you won't get banned for no reason; we have these rules to prevent vandalism and unfair treatment.
Thank you for reading, and once again welcome to the Crysis Wiki!