Fists
Production information
Type

Fists

Technical specifications
Damage Per Hit

80

Maximum Ammunition

Infinite, Rechargeable

Rate of Fire

2 hits per second

Accuracy

Medium to High

Range

Melee

Ammunition specifications
Usage
Era(s)

350,000 BC - Present Day

Counterweapon(s)

All Weapons

Affiliation

Human Race

[Source]
Fists appear in Crysis and Crysis 3 as the player's default weapon.
Specifics
Edit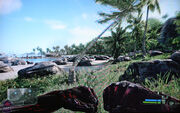 The player can use his/her fists to attack enemies, similar to performing a melee attack with a weapon. Speed mode increases the rate at which punches can be delivered, though at the cost of seven points of energy. Strength mode increases the damage that punches inflict at the cost of twenty points of energy (ten on Crysis Warhead). Pressing the Melee button (T default) performs a quick jab, while pressing the Fire button (left mouse button) performs a stronger, slower punch. If speed mode is activated with fist equipped, you are able to perform fast punches (LMB).
Advantages
Edit
When no other weapons are available, players are always able to use their fists. Melee attacks in all forms conserve ammunition, and allows the player to silently dispatch foes if an instant kill is achieved. The player runs faster with the fists equipped than any other weapon allows. Additionally with Strength Mode equipped a Nanosuit Operator is able to punch and flip a Jeep, LTV, civilians cars and boats, although at the cost of damage to the vehicle
Disadvantages
Edit
Closing into close combat without a weapon is particularly dangerous, and in order to be truly effective, Armor mode cannot be active, leaving the player much more vulnerable. Grabbing and throwing enemies may be preferable to punching them, although it is rare to be caught without weapons in the game.
Crysis 2 does not feature Fists as a separate weapon, but as a melee attack used by pressing the melee button with any weapon. For pistols and the strength mode melee, the player's left fist is used when the melee button is pressed. When the player cannot perform a stealth kill, they can alternatively grab an enemy and press the melee button, killing it instantly without alerting other enemies.
The fists in Crysis 3 function like the fists in Crysis 2, but the player may use both fists instead of just the left one. When the player taps the melee button rapidly the player will punch with both fists. This will use 1-2 bars of energy with each punch. If the player upgrades the power, they will only be able to do a slower power melee punch with the right hand, requiring more energy.
Community content is available under
CC-BY-SA
unless otherwise noted.